In-Depth Interview Segment(s) of
Siegfried Engelmann Videos: Excerpts from Our Conversation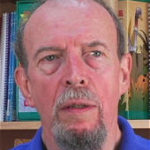 Siegfried "Zig" Engelmann is Professor of Education at the University of Oregon, the Director of the National Institute for Direct Instruction, and President of Engelmann-Becker Corporation, which develops instructional materials and provides educational services for students with various educational needs.
The creator of "Direct Instruction", Professor Engelmann is also the author or co-author of more than 100 articles and chapters of professional books, and more than a dozen professional books and monographs, including: Give Your Child a Superior Mind,  Theory of Instruction, War Against Schools: Academic Child Abuse, Direct Instruction, Teaching Disadvantaged Children in the Preschool, Conceptual Learning, and Preventing Failure in the Primary Grades and Inferred Functions of Performance and Learning, a theoretical text on the logic of learning and performance. Additional bio information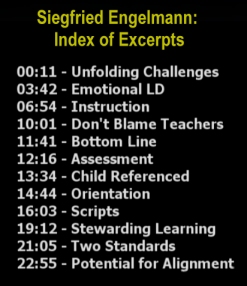 Professor Engelmann has spent decades working with at-risk children and developing a science of instruction based on what he learned from them.  He is a very controversial figure. Many consider him to be one of the most brilliant and rigorous thought leaders in education and others consider him to be the "Darth Vader" of top down instructional control. Whether you agree with him or not, his perspective and work is essential learning for anyone concerned with improving the effectiveness of instruction or improving education in general. We found him to be a man of great passion who is genuinely dedicated to improving the life-opportunities of children.
Altogether we spent 6 hours interviewing Professor Engelmann. The first part of our conversation, which took place over the telephone, is available to read by clicking here. The subsequent three-hour video interview transcript is available by clicking here.
Note: Participation in a Children of the Code interview does not constitute or imply an endorsement of the Children of the Code Project by the interviewee. Conversely, including an interview does not constitute or imply an endorsement of the views, organizations, books or products of the interviewee, other than as explicitly stated, by the Children of the Code Project.