In-Depth Interview Segment(s) of
Dr. Alex Granzin: Not Terribly Natural?
In this segment of our interview with Dr. Alex Granzin we discuss the unique form of confusion involved in learning to read and to what degree learning is natural. We also talk about 'individualizing instruction' and the difference between aggregate pattern based differentiated instruction and meeting actual individual learner needs.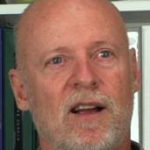 Alex Granzin, Ph.D., is a School Psychologist with the Springfield Public Schools of Oregon and a Past President of the Oregon School Psychologists Association. He is the co-author of Working Parents Can Raise Smart Kids: The "Time-Starved" Parent's Guide to Helping Your Child Succeed in School, and has taught courses at the University of Oregon, including behavior management and instructional consultation. In this interview, one of the most important and accessible in the COTC collection, Dr. Granzin discusses the emotional trauma that so often accompanies protracted reading difficulties and how that trauma affects children's overall educational trajectories.
Note: Participation in a Children of the Code interview does not constitute or imply an endorsement of the Children of the Code Project by the interviewee. Conversely, including an interview does not constitute or imply an endorsement of the views, organizations, books or products of the interviewee, other than as explicitly stated, by the Children of the Code Project.