In-Depth Interview Segment(s) of
Dr. David Abram: How Reading Affects Us
In this segment of our interview, Dr. David Abram discusses how alphabetic literacy made possible our modern disconnect from the sensuous surroundings of nature and led to the shift in perception that underlies our ecological crisis.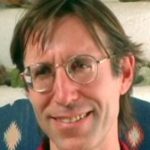 Dr. David Abram is a renowned visionary, cultural ecologist, philosopher, author, teacher, speaker, and performance artist. Utne Reader named him one of a hundred visionaries currently transforming the world and he has been the recipient of numerous other honors including fellowships from the Rockefeller and Watson Foundations. His highly acclaimed book "The Spell of the Sensuous: Perception and Language in a More-than-Human World" received the international Lannan Literary Award for non-fiction.  His essays have appeared in journals including: Orion, Parabola, Tikkun, Wild Earth, Resurgence, The Ecologist and Environmental Ethics. A highly sought after public lecturer, Dr. Abram delivered the keynote address to the United Nations "World Environment Week" at Muir Woods and the New England Aquarium and the Orion Society sponsored a public debate between him and the distinguished biologist Edward O. Wilson on the topic of science, ethics, and the future of environmentalism. Dr. Abram is the founder and creative director of the Alliance for Wild Ethics a consortium of individuals and organizations that employs the arts, often in tandem with the natural sciences, to provoke deeply felt shifts in the human experience of nature.  Additional bio info
Note: Participation in a Children of the Code interview does not constitute or imply an endorsement of the Children of the Code Project by the interviewee. Conversely, including an interview does not constitute or imply an endorsement of the views, organizations, books or products of the interviewee, other than as explicitly stated, by the Children of the Code Project.